OSHA Standards Training In Person and Online…
Are you looking for OSHA Standards training? Regardless of what you're looking for – Look no further…
We offer dozens of courses in person and online with discounts for our member companies!
.
OSHA has been ramping up inspections with a vengeance and your organization could be their next target.
Subsequently companies need to know what inspectors are looking for and have a plan before the inspection!
Online OSHA 10 & 30 Hour: Training That Puts You Markedly In Control through Summit Training Center!

.
Without a doubt one of the most efficient and easy-to-use means of obtaining your DOL/OSHA course completion card, Summit's Online OSHA 10- or 30-Hour training undoubtedly sets the cornerstone for a safe working environment. Indeed, Summit offers more features and benefits than any other Online OSHA 10- & 30-Hour training on the market. 
Check out these benefits for example:
Set your own elective courses to tailor the training to your exact job needs
Unique bookmark feature allows students to come back to training – students do not have to complete the training in one sitting
The courses are integrated with the Otis™ Learning Manager, allowing you to track employee progress, schedule training, and view quiz scores
Highly interactive online courses from Summit include video, animation, high-end graphics, and award-winning content
Students have 180 days to complete the training, so there are no scheduling issues or loss of production associated with traditional classroom training
Printable temporary certificate of completion
Study guides
Upon completion, students will receive an OSHA course completion card
EMPHATICALLY MORE THAN JUST OSHA 10/30 HOUR COURSES: 
Summit offers over 600 training programs available in online, streaming video, and DVD formats, particularly online OSHA 10 & 30 Hour and online HAZWOPER training. Accordingly, each of Summit's expert training solutions teach best safety practices and hazard awareness for hundreds of OSHA, DOT, and EPA compliance requirements to reduce costly accidents and injuries in the workplace.

OSHA Manuals
These "OSHA Books" lists all of the federal OSHA standards for either construction or general industry. Use your member benefits to save $$ on these pricey yet coveted manuals!
Contact us for more information!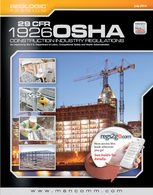 .
OSHA Standards Training We Offer
.
Unquestionably, compliance with OSHA regulations is a key concern for every type of business. Generally, compliance not only allows you to avoid fines and penalties but additionally results in a safer workplace – which unquestionably lowers workers' comp rates and significantly increases productivity! Without a doubt, the Sunshine Safety Council can provide supervisor or front line employee training for most OSHA standards. 
Individual OSHA Standards: At the present time training is available to meet the requirements of specific OSHA standards such as Confined Space, Trenching & Shoring, RCRA, Aerial Lift Safety, Bucket Truck Safety, Powered Industrial Trucks, and others. This training is generally done at your location to allow it to be customized to your environment, equipment, and policies. Of course group rates are available upon request. See our Forklift Training page for detailed information.
Other Available Safety Training: At this time training is usually done at your location to allow it to be customized to your environment, equipment, and policies. 
Additionally, Group Rates are available upon request.
Need to look at OSHA Standards, order free OSHA publications, or keep up-to-date on OSHA regulations…Visit