Forklift Formal Operator Training
Forklifts are everywhere so we often don't think of the hazards they pose.  
At this time, OSHA requires all drivers of Powered Industrial Trucks to receive forklift formal operator & practical training before being permitted to operate the truck (29 CFR 1910.178). Correspondingly, this interactive training program complies with the requirements of the rule.
Subsequently, the Sunshine Safety Council offers you a variety of options to accomplish compliance with this training.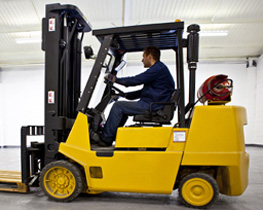 Option 1: Forklift Formal Operator
Learn at Our Offices and Evaluate at Yours
Enroll employees to attend the "Coaching the Lift Truck Driver" formal forklift operator training at our office. Chiefly, this four (4) hour course covers the specific training elements outlined in the OSHA standard. Afterward you may use the handy checklist provided to complete the hands-on evaluation portion of the training at your facility. Afterward a knowledgeable and experienced operator may complete this portion of the training within your organization.
.
Option 2: We Do it All at Your Site
Compared to a do-it-yourself training, this is simple.
Contract us and have an instructor conduct both the formal and practical training sessions at your facility.
Allow 4 hours for the formal training and approximately 20 minutes per driver for the evaluation
.
Option 3: We Train at Your Site/You Evaluate All at Your Site
Additionally, we can come to you for just the forklift formal operator. Contract to have an instructor conduct only the formal training at your facility and afterward a knowledgeable and experienced operator at your company completes the evaluation portion.
Allow 4 hours for formal training.
A minimum of 10 participants is required for onsite training.
.
Option 4: Become Your Own Trainer with Train-the-Trainer Course
This course includes the "Coaching the Lift Truck Driver" training kit (DVD, instructor's manual & 10 student books). Books include certificates. This course is user-friendly and adaptable to most any work environment. This option provides the employer with the most flexibility and cost effectiveness.